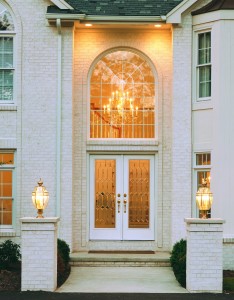 Doors are more than the means by which you enter a property. Doors are the focal point of the property. They convey the overall design of the property and set the tone for the interior design. They are a guests first impression of the owners style.
But doors are also an integral part of a properties structure. They protect the property and it's inhabitants from it's external environment. They keep a property secure… from wind, rain, and dirt, to unwanted intruders. A well performing door system not only operates well when opening and closing, but it also operates well under "loads" or pressure exerted upon it by wind or impact by debris, intentional or non.  Because of a doors need to be both attractive and aesthetically appealing, they can be one of, if not the most important component of a property.
Derby Door & Window has the experience and knowledge to not only help you choose the most beautiful doors you can imagine for your property, but also make sure the doors you choose will protect your property from it's external environment for years into the future, if not for the life of your property.
Check out the following links to some of our door manufacturers and suppliers and give us a call at 407-252-2149 to schedule a free at home estimate for installing the doors of your dreams.